Don't Let Them In
A downloadable game for Windows
Hunt them down, keep them out!
[ DOWNLOAD LINK BELOW ]
- CONTROLS -
W/S - Walk forwards / backwards (double tap S to quick turn)
A/D - Turn left / right
SPACE - Shoot / Attack
E/ENTER - Action
I - Inventory
P/ESCAPE - Pause
- INFORMATION -
A game by NPJarcade, written in two weeks for LowRezJam 2017.
- Scary monsters are coming for you, hunt them down, keep them out
- Collect items and weapons
- Use the action button when '?' appears on the screen to interact with objects
- Open your inventory to use items and switch weapons
- Keep an eye on your ammo
- Repair broken doors using bits 'n' bobs
- Watch your back... they are coming!
- CREDITS -
Follow me on Twitter @NPJarcade
Programming, artwork and graphics by NPJarcade, UK, 2017.
SFX randomly generated using ChipTone - http://sfbgames.com/chiptone
Additional SFX from FindSounds - http://www.findsounds.com
Audio edited with Audacity - http://www.audacityteam.org/
Music created using Beepbox - http://www.beepbox.co
Install instructions
- Simply download Don't Let Them In.zip
- Extract your files to a preferred location on your PC
- Double-click the Don't Let Them In application and enjoy!
Comments
Log in with itch.io to leave a comment.
A fun little game. I really like the visuals and it's legitimately fun to play.
Hey FamousCoozie,
Thank you so much for the comments and I really enjoyed your playthrough. You had a really good couple of runs (also glad you got a couple of pizzas!)

Nice to see people are still enjoying the game despite the dodgy camera angles :)
Top tip: double tap the S key to quick turn!
Fun! Camera angle is often annoying, especially when the doors are not wide enough... any plans for randomly generated map/loot? The trees/grass really blend together, maybe the secondary color for the grass could be adjusted from black to something earthier
Hey WallHackJack! Thanks for your comment.
I've got loads of ideas to improve this game, it's just hard finding the time to put it all together. I'll hopefully release an update soon which fixes the glitchy collisions and camera :)
The randomly generated map and loot was the initial idea, but unfortunately I didn't have enough time to get it right for the gamejam submission. I hope you'll be keeping your eyes peeled for updates :D
Simple but pretty fun! I liked the visuals and the way it controlled. Nice job!
I love this game, what engine and language did you use?
Hey PaladinSan,
Thank you, I'm really glad you enjoyed it! :)
DLTI was made using GameMaker Studio 1.4 using the very basic 3D functionality it provides, coded entirely in GML (GameMaker Language).
Keep it here for some game updates coming soon!
Hi! I'm not using GM and new to game dev, but I'm wondering how you achieved this beautiful pixel effect for a 3d game? Are you just using shaders on top of 3d models?
Hey, I'm really glad you like the low-res 3D pixel effect :D
No shaders used, but all of the models are 3D and I'm just forcing the game to display at a 64x64 resolution, which gives a very pixelated look. You can see the difference below when compared with a 640x640 resolution.
Hope this makes some sense.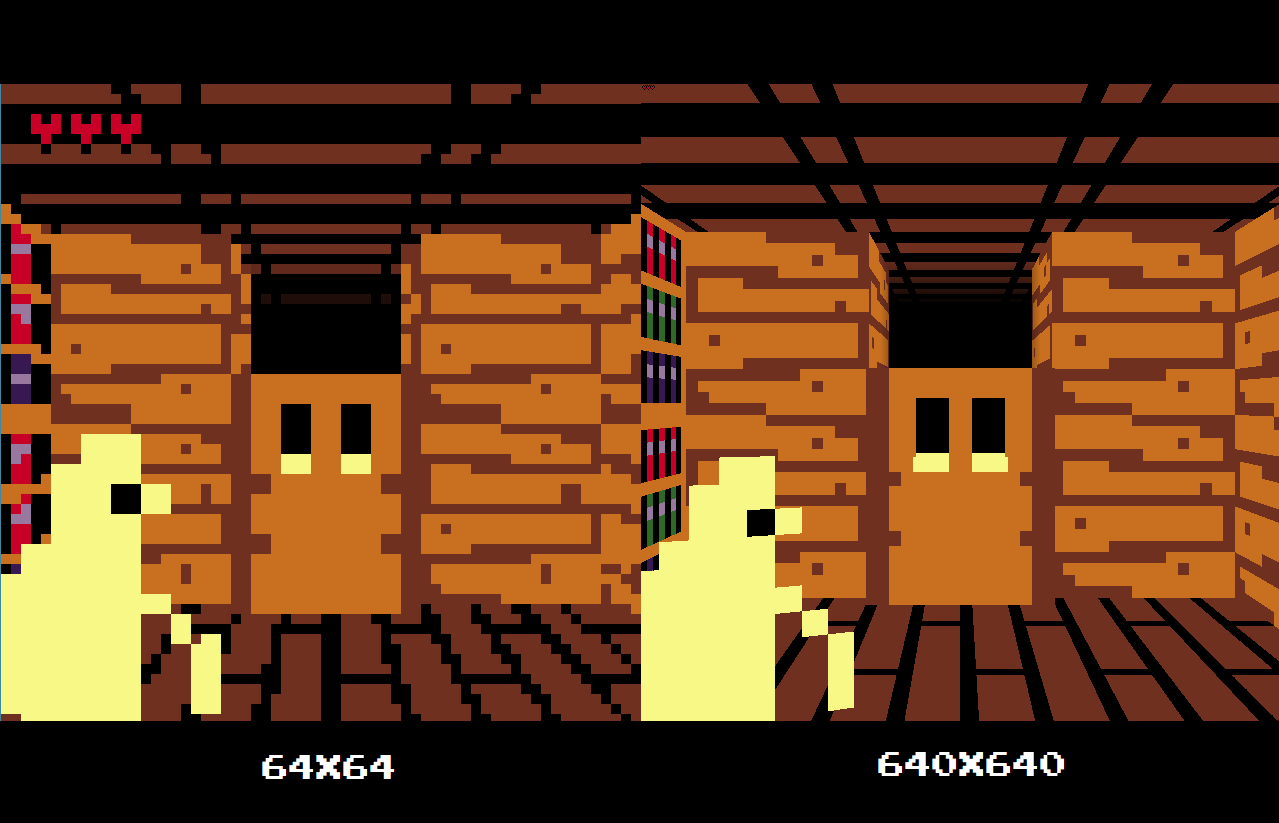 Hey StepVibes,
Thank you for the video review! I really enjoyed your playthrough and I'm glad you liked the game. You've provided a lot of useful feedback I'll definitely be taking for a future update. The glitchy camera is almost fixed now, so that'll be the first thing I'll be updating soon!
I'll probably add mouse controls too, and perhaps some tweaks to the movement system as it is a bit clunky and slow.
Many thanks again for your video, it's really great to see you guys playing the game!
Lol :"I don't know if it's wave based, level based, base based **MLG SOUNDS**"
Who am I not letting in. Sluggo?

Hey MindUnkown,
Great video man, I really appreciate it!
That lucky shot at 3:20! :D
That's really funny I didn't even realize that I actually killed an enemy with that shot to advance lol
Hey! Thanks for the feedback.
Monster sounds were dropped at the last minute because I didn't feel they worked well and I didn't have time to adjust before the end of the jam. Definitely something I'll redo for a future update though!